Roughly 40% of the clients Digital Position starts working with don't have a Microsoft Ads account. Some don't even think they need Microsoft Ads management. Yet, Microsoft Ads runs ads on search engines that command roughly 9% market share (including Yahoo).
There is a reason we "Google" things and we're not "asking Jeeves" anymore. With 3.5 billion daily searches, Google has cemented itself as the number one search engine with long-term staying power. But lurking just behind the humongous Google shadow is Microsoft Ads and you might be surprised to know just how powerful they can be.
If you've got a successful Google Ads account driving profitable revenue for you, why not get a nice little extra boost by largely replicating that success onto another platform?
Google Ads vs. Microsoft Ads
While the two platforms share a lot of features and for the most part many successes from Google can also be successful on Microsoft Ads, that's not always the case. Here are some key differences you need to know going in:
Microsoft Ads are more Desktop Heavy
In our portfolio, roughly 67% or 2/3 of the spend in Microsoft Ads is on desktop. This is in contrast to Google, where we see roughly 52% of our spend on desktop. Google has more market share on mobile devices, and thus, expect your Microsoft Ads campaigns to be more desktop heavy.
Microsoft Ads are Edge & IE Heavy
We're seeing roughly 40% of the traffic coming from Microsoft Ads using Microsoft Edge or Internet Explorer (yikes). This is largely because on Windows machines these browsers have been the default browser. Windows machines hound you about using Edge: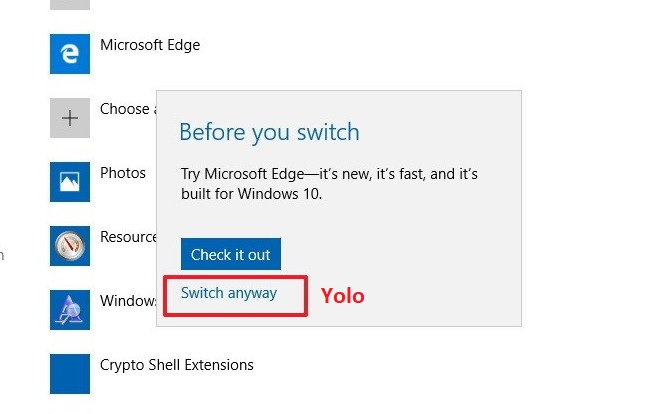 If you're going to run a heavy Microsoft Ads push, make sure you've got your website functioning well on these browsers. Nothing worse than sending paid traffic to a broken experience!
Skews Older
Microsoft Ads' audience tends to skew older with the main audience being 55+. This obviously means bad things for Microsoft long-term, but for right now from a marketing perspective it's actually a good thing to know. If you're selling something to an older audience, Microsoft Ads actually might perform much better for you than Google!
So Why Microsoft Ads?
The Microsoft Search Network Audience Size Stats

You might be surprised to hear these statistics about Microsoft (source). Remember that although 9% sounds small, it's still a heck of a lot of people:
7.5 billion monthly PC searches
142 million unique PC users
37.7% PC market share (pretty misleading, doesn't include Mac so this isn't desktop it's only PC)
More Buying Power

The average Microsoft Search Network user spends 30% more online shopping from their desktop computers than average internet searchers. This extra buying power is nice, as a lot of older, higher income, and IT employees tend to use the search engine.
Less Competition (sometimes)
Remember the 40% metric from the beginning of this article? Yup, 40% of our new clients don't even have a Microsoft Ads account. Thus, we find CPC's are typically cheaper in Microsoft Ads than Google Ads. See the table below from a study done by Wordstream: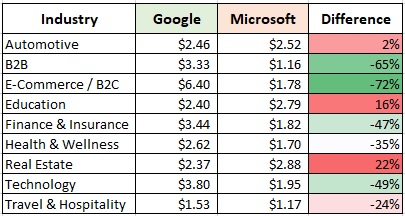 While not ALL industries are significantly cheaper, there's definitely some opportunity being missed by companies especially in the B2B and the e-commerce realm which are absolutely massive.
Duplicating Success
Microsoft Ads' import tool isn't great, there's a bunch of bugs that make it infuriating. However, if you know the bugs and you import via the editor instead of the interface, you can work out the kinks before you publish. This is typically how we start, and then we manage Microsoft Ads to it's unique performance metrics. Be careful of lazy agencies who just duplicate the campaigns and then ignore your Microsoft Ads altogether.
All in all, Microsoft Ads should use a similar structure as your Google Ads campaigns making them fairly easy to manage overall. For most clients, it's just free incremental growth sitting there. However, don't let your agency neglect them which happens all too frequently. Get proper Microsoft Ads management from us and we'll show you how it's done!