To better assess our results, E-A-T is gaining an E: experience. In addition to expertise, authoritativeness, and trustworthiness, does content demonstrate some degree of experience? Learn more about how E-E-A-T is now part of our search rater guidelines https://t.co/8hCj1Gk49S

— Google Search Central (@googlesearchc) December 15, 2022
A seismic shift occurred in 2020 as boatloads of physical retailers and the older population flocked to online e-commerce. This led to a very quick chain of events where people were scrambling to master the e-commerce game and bring their products direct to consumer. Kevin O'Leary explained this perfectly while hilariously riding his bike around (starts 1:30).
Take Shopify's search volume for example:

Google Trends data for the search "Shopify"
It's clear as day that there was an explosion in e-commerce businesses (not to mention tons of other evidence such as the rise of Zoom). On top of this, almost every client in our portfolio saw the percentage of traffic from older populations increase. This was the last generation of people who were still hesitant about buying online – now they've become forced to feel comfortable, and they LOVE it.
So if you're looking to aggressively scale your e-commerce business, here are some of our tips when helping clients make this transition to digital.
Choose the Right Platform (preferably Shopify)
In 2021, as Kevin O'Leary stated there has been a standardization on how websites are built. In the past, it was all over the map; Magento, WordPress, custom coded, tons of different languages. Now, the more quickly successful e-commerce stores are standardizing under simpler platforms like Shopify because they can move much more quickly.

There is a shortage of developers out there right now. It's so hard to find really good ones, so leverage a platform that relies on them as little as possible.
This isn't to say that Shopify is the only choice, it really depends on your business needs. However, we've found Shopify to be the best for most because it offers a great balance of simplicity coupled with an ability to make advanced changes too.
*Note – one of the drawbacks of Shopify is the funky URL structure. However, although not perfect, there are ways around this and we've found you can still target appropriate keywords easily.
Have a Clear Architecture
This is one of the biggest faults we find when looking at e-commerce websites – a complete mess of an architecture. This is much easier when you have only a couple products, but if you've got thousands upon thousands it can become really overwhelming.
In a perfect world, we want it to look something like this: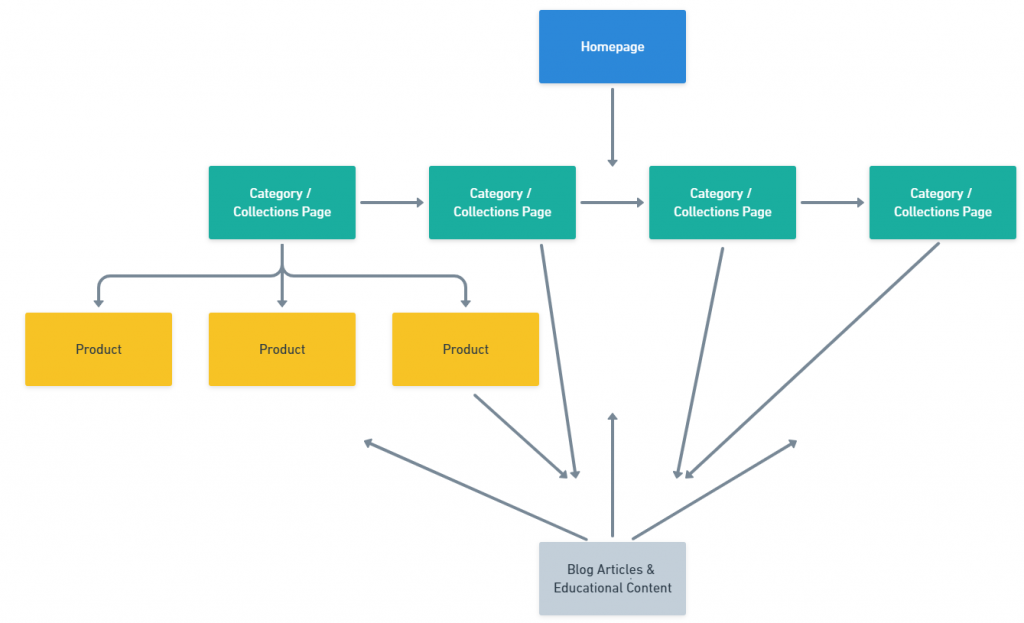 Don't judge me for the picture, MS Paint shall forever live in infamy!
As you can see in the very simplistic picture above, you have a clear architecture with educational content intertwined.
Your homepage & menu need to define this clear architecture from the top down. You should have a drop-down or series of links in the menu that correspond to categories. On top of this, a link to your blog or educational content, about us, contact us, and my account should also be there.
From there, categories can either go a layer deeper to subcategories OR go from category right to products. The educational content should be worked in throughout the website. A couple notes on this:
Are you adding blog post links to relevant categories?

e. – if you have a category called "hooded sweatshirts" are your blog posts or educational content crosslinked on that page about the hooded sweatshirts subject? Sizing, materials, zipper vs. no zipper, trends, etc.?

Are you linking your product pages to relevant blog posts?
In reverse, are you linking your blog posts to category and product pages with the proper anchor text?
Are your products categorized or tagged appropriately?
Does the URL structure target the keywords for that page?
We also want to avoid multiple pages that have the same intent. Often clients have a category for "hooded sweatshirts" (as an example), and then they also have a blog post called "hooded sweatshirts: the ultimate guide" or something. The intent of these audiences is the same – you're targeting the same keyword "hooded sweatshirts" for both and cannibalizing your efforts!
Feel free to map out your architecture in a website like Whimsical to get a clear understanding prior to designing your e-commerce website.
Content, Content, Content
Content is King. Every time I talk about content I'm going to continue using that phrase even if it's been beaten like a dead horse.
You cannot slap an e-commerce website up, add products and think you're just going to get sales. You must put in the work when it comes to SEO.
Most often, clients ask us "well what about conversion rate optimization (CRO) or UX, doesn't this destroy their experience?". The answer is a clear NO! You can deprioritize educational content so your UX is largely unaffected. We definitely want that product selection front and center, but if the user doesn't find what they're looking for, which is a better experience:
Option A: Showing them some related educational content, social proof, and guiding them toward a purchase eventually? OR
Option B: Nothing, if they don't find a product they want they are shit out of luck
You get it, SEO can be balanced properly with CRO in a way that satisfies both the user experience and search engines for ranking. After all, what does it matter if you have the best retail store on the planet if you build it in the middle of the woods where nobody can get to it? You need to build roads, bridges, whatever to get people to your store. That's where SEO (and PPC) / Digital Position comes in.
Page Speed & Mobile First
Page speed is huge, particularly on mobile devices. Google not only has this baked into their algorithm as a direct ranking signal, but the average conversion rate goes down 7% for 1 second longer a page loads (source).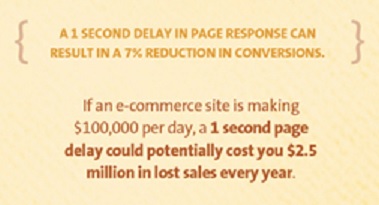 Lots of amazing metrics in the Kissmetrics infographic on Neil Patel's website
Too many developers and advertisers are still working on desktops at home and not realizing that the majority of website traffic is now mobile.
As part of our SEO packages, we do an in-depth page speed analysis where we look at things like:
Are you loading images too early?
Are your images properly sized & optimized?
Is your javascript & CSS minified?
Is your server optimized for TTFB (time to first byte)
Do you have certain apps slowing the website down?
Is the theme cumbersome and requires a code cleanup?
Don't neglect your page speed. Remember, not all people are on blazing fast internet connections. It's good to test with slower devices to see what the average customer might be experiencing!
Starting with the Longtail
Too often we see e-commerce businesses try to start with the #1 term in their industry but no authority on their website to rank for it yet. Sure, we have plenty of SEO case studies where we're ranking our clients at the top for "running shoes", "vaporizers", "jump rope", etc. but those absolutely took time.
Start with the longtail first. If you search the term you want to rank for and see Amazon, Nike, Dicks Sporting Goods, Target, Walmart – it's probably not the best place to start.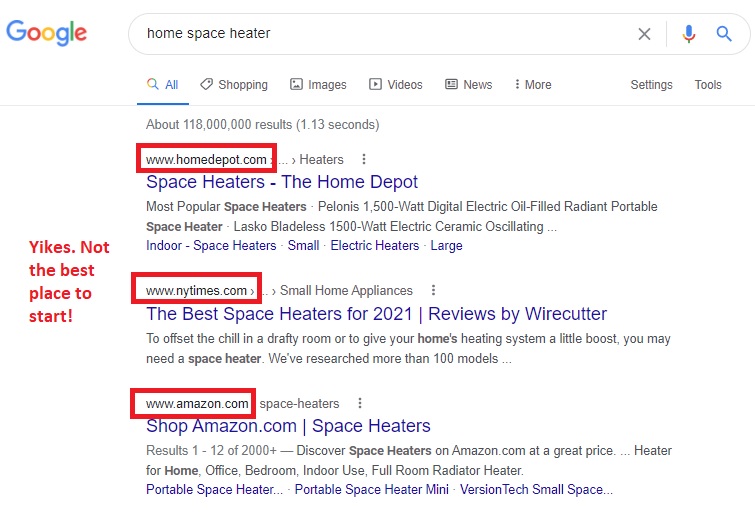 See what I mean?
When we started the journey to rank Fleet Feet for "running shoes", we didn't start at that term. We started with tons of educational content around running (proper running technique, breathing exercises, etc.) and focused on brand content (new shoe launches and educational content around the manufacturing of the shoes).
Once Fleet Feet had gained enough authority online to truly have a shot at ranking for these terms, we were able to start inching up the ranking for running shoes with a super in-depth buyers guide on running shoes. It took time, but we cracked the top 10 and traffic (+revenue) exploded.
Proper SEO isn't a project, it's a journey that influences everything you do on your website.
E-E-A-T (Experience, Expertise, Authoritativeness, Trustworthiness) 
If you're trying to hide behind your website with stock images, fake bios, and no contact information good luck with SEO. Google realized that customers want to know who you are before making a purchase. Customers also want to know why you're a qualified individual speaking on the subject.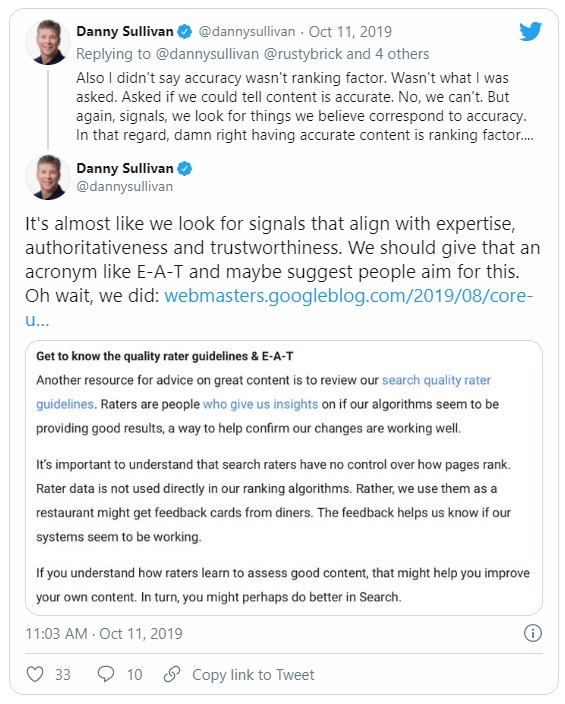 Danny Sullivan from Google
Here's a simple checklist:
Source all claims and presented information that is not your own, especially medical claims

Your articles / blog posts should have an author who wrote each post, with a link to see an expanded bio about why that person is qualified to be speaking on the subject, including any relevant experience.

Your articles / blog posts should all be dated. If you update a post, an updated date should be applied.

You should have an about us page without stock imagery that demonstrates experience, illustrates your story and tells how the business came to be.

You should have clear contact information including e-mail address, phone number and physical address if you have one.
Exceed the user's needs with your content. Don't write thin, not helpful content. Go above & beyond with your content!
Have a clear terms & conditions page, privacy policy, etc.
The more crucial the content, the more important E-E-A-T is to your rankings. For example, if you're giving medical advice E-E-A-T is crucial (especially in this environment) and without it you might not rank at all.
Other Notes!
These didn't make the cut for longer sections, but are all incredibly important as well:
Write unique product & category descriptions – manufacturer provided ones will not do.
Add Schema markup to products (reviews, price, etc.). Get those stars in search results!
Optimize your Meta Titles & H1's. Once you have a clear architecture, target the right keywords and make them engaging!
Check Google Search Console for technical issues
Don't neglect reviews & good customer service. Your online reputation matters, you can't provide a crappy service in 2021 and expect SEO to skyrocket. Google sees your reputation on social media, yelp, google reviews, reviews on your own website, etc.
All websites should be on HTTPS
E-commerce SEO isn't easy, that's why of course we recommend hiring experts for SEO. Be careful of the discount agencies out there promising first page rankings for $99. Almost every single time you end up in some strategy that hurts your business terribly long-term or they get you rankings on a search with no volume! At the end of the day, your SEO strategy should be focused around how to grow your business revenue & profit.
If you'd like to touch base regarding SEO and see more about how we operate, feel free to visit our SEO agency page and fill out a proposal to get in touch!