There isn't a business on the planet that doesn't wish they had more natural search traffic. The tricky part is getting healthy, sustainable traffic in the door that converts well into revenue.
Natural search refers to the organic listings below the ads in search engines. Organic search & natural search are synonymous in the SEO world. To illustrate: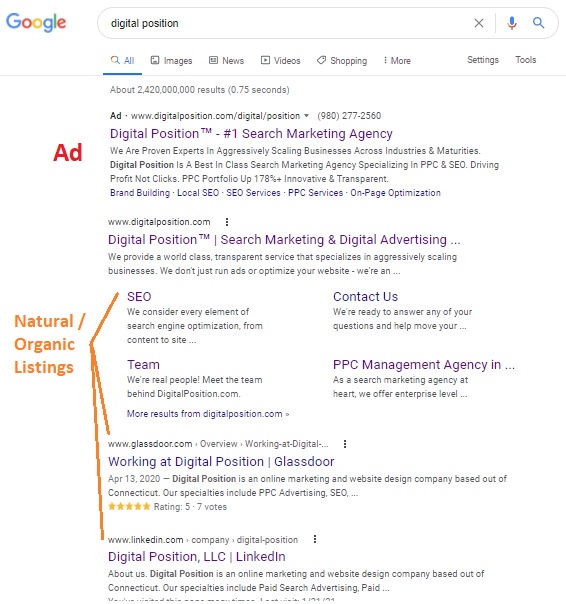 See how in the screenshot we've got the ad, and then we've got those organic (natural) listings? When you hear talk of SEO, these are the listings we're trying to get to rank higher and get your business more exposure.
Why is Natural Search Important?
There are many reasons why natural SEO is important. I'll outline the primary points below:
Not associated with recurring ad cost
First and foremost, this traffic is not associated with a direct recurring ad cost. This leads many to call it "free" traffic. When you are managing ads, in most circumstances you're paying for every click to your website. When it comes to organic SEO, you're consistently optimizing your website and creating content such that your website naturally ranks higher and gets more of these clicks that aren't costing you money with each click.
Rising tide lifts all boats
You've heard the saying before that a rising tide lifts all boats. It's our firm belief that to be truly successful in digital marketing, all channels must work together. After all, 92% of customers visiting a retailer's website for the first time aren't there to buy.
Paid social and display ads can create demand, natural search and paid search can harvest it. E-mail can help capture sales along with retargeting. Your reputation & reviews will help turn those about to pull the trigger into paying customers. Your customer service will retain and improve your lifetime value. This is the point, you can't just do one channel and expect to scale your business. You should be at least dipping your toes into most of the core digital marketing channels. You can't afford to neglect organic SEO.
93% of online experiences begin with a search engine (source)
What do you do when you want to find something? You search for it! Think about how many searches you make every single day.
Customers in just about every single market imaginable turn to search to find just about anything. If you're neglecting natural search, you're probably alienating a massive portion of sales you could be capturing.
It's more authentic
Ads are ads. They absolutely work extremely well when managed by a proper PPC agency, but they're still ads. Many people skip over them, or at the very least are more skeptical of buying when they click on an ad.
Organic SEO is different, it's more authentic. It comes off as Google recommending you, not you selling yourself.
And of course, we'll take this opportunity to pause and say that if this all feels like a little much, there's no smarter move than getting professionals involved!
How Natural SEO Works
We split SEO into 5 sections at Digital Position for organizational purposes. I won't dive into immense detail of each section, will just provide a quick overview of what each section means. In short, everything you do for your website both on the website and off of it can have an impact on your SEO. SEO isn't a project, it's connected to everything digitally.
Architecture & Internal Linking
It's important your website has a logical architecture, something like this: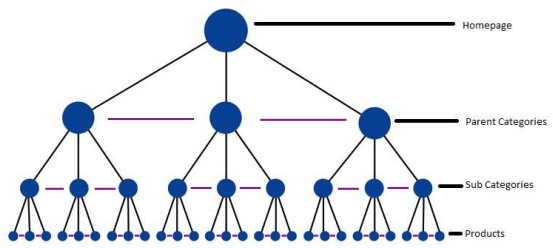 Then you add in educational content, link all that great content together to boost the authority of all pages on the website and help them rank higher in natural search.
If you're building a house, the architecture is your foundation. If it's broken, the house likely crumbles.
On-Page Optimization
If the architecture & internal linking is the foundation, the on-page optimization is the framing of the house.
Once you've got the keyword themes you're going after on each page, on-page optimization refers to the basic optimization of page elements such as the Meta Title, H1 (header tags), image alt tags, and more. We want these themes to be consistent and cohesive.
Technical SEO
It doesn't matter how great your house is if you have no driveway to get to it or the plumbing and electrical don't function properly. You might even end up causing a fire with that electrical, burning the entire house down!
Technical SEO is making sure search engine crawlers & users can access your website, find their way around, and that the website loads quickly on all devices.
Keyword Research & Content
This is the "meat & potatoes" of natural search – the insulation, the sheetrock, the countertops, the appliances, the furniture; it's probably the most important aspect of SEO.
Each page on your website should have a unique intent and should be targeting a tight theme of keywords. You should write amazing, unique content that engages users. You should overall provide an amazing experience for the user.
External Brand & Link Building
This is the landscaping, the decorations, and the reputation your house has with your circle of friends.
Why is your "home" (website) the best? Do you have the best reviews, are people saying great things about you on social media, do other reputable websites mention you and link to your website?
Even efforts not on your website can have an impact on your website's natural search rankings!
Natural Search FAQ's
If you're looking for a professional to help you figure all of this out, fill out a proposal and we'll get in touch! Below I've added in some other frequently asked questions (FAQ's) about natural search:
Q: What is natural (organic) SEO?
A: Natural search & SEO refers to the organic listings that show up below the ads in search engines. These listings are not associated with a recurring direct ad cost.
Q: Do I need organic SEO?
A: Yes! Organic SEO is one of many important channels in digital marketing. Because 93% of online experiences start with a search engine (source), you're missing out if you don't have coverage in SEO.
Q: How much should I pay for natural search services?
A: Prices typically range based on the size of your sitemap and scope of service. If you're looking for full-service SEO, you're looking in the range of $2,000 – $7,000 per month for a proper agency that knows what they're doing. You can find cheaper but there are many SEO scams out there "promising first page rankings" – beware!
Q: Do I need paid search if I'm doing SEO?
A: Yes, both channels play extremely closely together. The ads show up first, so you want to have coverage up there as well as in the natural organic listings. We've found benefits to traffic on both when services are combined.
Q: What's the quickest way to improve SEO?
A: Provided you don't have any technical issues on your website, it's probably quickest to focus on content. There's a saying in SEO that "content is king", and that couldn't be truer. You can't just slap up products and think they'll sell, what makes you an authority?
Q: What does SEO stand for?
A: Search engine optimization, or the practice of optimizing your website (and external reputation) to improve natural organic rankings.
Q: Should I hire an SEO professional?
A: Depends on your budget. A brand new website can take 3-6 months to start getting SEO traction with a good team, so this is unlike PPC where you can turn on an ad tomorrow and start driving traffic. In most instances, we recommend proving the concept with your business on PPC first and then hiring an agency for SEO. Long-term, you absolutely should have a professional overseeing this though, the returns an SEO agency can generate are incredible long-term.
Need help with your own SEO? Get us involved!